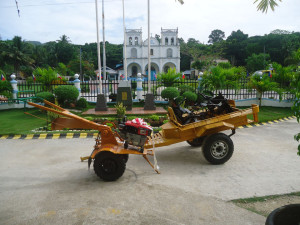 Department of Agriculture implemented a program focusing on rice field the RICE MECHANIZATION  PROGRAM where they distributed machines to Associations of Irrigators. It is a nationwide program, and last June 19, 2013 there was a turnover of machine done in front of the Lila Municipal building between the Department of Agriculture Regional Field Unit 7 in the presence of Bohol Agricultural Promotion Center (APC)  manager Engr. Eugene Cahiles and Municipality of Lila presented by the Municipal Mayor Hon. Regina Cahiles-Salazar. The tractor machine was given to the Association of Irrigators of Bonkokan Ilaya headed by Mr. Eutropio Salido. It is a multipurpose machine which can be used in plowing  and can also be used in transporting goods in the field.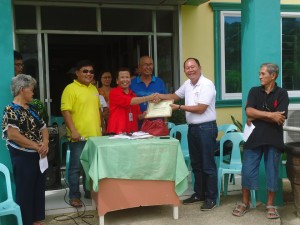 The turnover was attended by Municipal Mayor Hon. Regina Cahiles-Salazar , Vice-mayor Hon. Frederick H. Raut, SB member Hon. Lucrecio Abarquez, Mrs. Arsenia Tapon the Municipal Agriculture Officer, some Municipal Head of offices and employees, and members of Bonkokan Ilaya's Association of Irrigators.
                Another four (4) machines are coming for the Irrigators. And it will be given to the qualified association of irrigators of Lila. The association should be SECT or DOLE registered and have at least 30 hectares of rice field working area.
The Significance of Independence Day
Philippine's Independence day is a large celebratory event held across the country.
Commemorating Independence Day reminds us of the courage and struggle of the men and women who paved the way for the birth of our nation. Our ancestors add great sacrifices to witness that day in 1898, when the Philippine flag was raised and the national anthem was played to mark the proclamation of our nation's independence.
The importance of Independence Day to Filipinos is a like the sun that gives us life and nourished us. Our forefathers had suffered mutilation, gruesome death punishments, the women had been raped and maltreated. As a survivor on that war and colonial rule, our noble heroes was seeking for a huge blast, a revenge that would unleashed and would put the abusive ruling of Spain to an end.
Our noble heroes who once shed blood and gave their lives to save us from the grueling Spanish reigned. Their memories remind us, the fight, the hope and the dream to free us from the abusive colonial rule of Spain. Spain had been defeated from the Spanish-American war at Manila bay.
We will also recognize the great courage and bravery of Filipino heroes like Dr. Jose Rizal, Bonifacio and the Katipuneros in defending the rights of every Filipino people and for fighting for our freedom and sovereignty.
One hundred and fourteen years after, since we are celebrating the 115th , we are called to remain united and steadfast to the ideals of freedom and democracy. Last year's theme, Kalayaan: Pananagutan ng Bayan para sa Tuwid na Daan, and with this year's theme ,Kalayaan 2013: Ambagan Tungo sa Malawakang Kaunlaran, prompts us to bear in mind that Every Filipino, wherever he or she may be, has a role to play in the nation, in our province and in our municipality of Lila's development. Our hard-earned independence comes with responsibility to build a prosperous nation founded on truth, justice and equity.
Their fight- is our fight! Their revenge is our victory! Mabuhay at Maligayang Pagdiriwang ng ating Kalayaan!
By: Evelyn H. Codilla
Lila District Coordinating Principal